PACTOR IV
From Signal Identification Wiki
PACTOR Series: PACTOR I - PACTOR II - PACTOR III - PACTOR IV 

PACTOR IV
Frequencies
3 MHz,30 MHz
Frequency Range
3 MHz - 30 MHz
Mode
USB
Modulation
PSK,QAM
ACF
—
Bandwidth
2.4 kHz,300 Hz
Location
Worldwide
Short Description
PACTOR IV is the newest iteration of the PACTOR series, advancing from PACTOR I-III. It is 1.5x-3x faster than PACTOR III, and has 10 speed levels.
I/Q Raw Recording
—
Audio Sample
PACTOR IV is the newest iteration of the PACTOR series, advancing from PACTOR I-III. It is 1.5x-3x faster than PACTOR III, and has 10 speed levels.
This is a proprietary standard developed by SCS GmbH & Co. KG, Hanau, Germany. This mode is used exclusively in SCS's P4dragon series of shortwave data modems. The P4dragon series modems are all backwards compatible with PACTOR I-III, and, like PACTOR II and III, uses PACTOR I SELCALL to establish connections with other modems.
PACTOR is used by many groups, including Sailmail for mariners to send and receive emails. It is also used by Ham Radio operators, Governmental and Diplomatic agencies, and even NGO's.
PACTOR IV's 10 speed modes: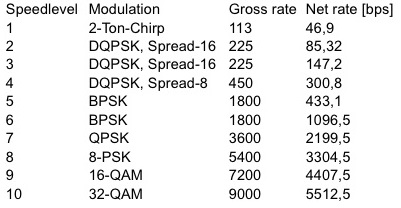 Audio Sample
[
edit
]
Initial SELCALL with beginning PACTOR IV data transmit. Using Speed Level 6.
PACTOR IV Data transmit
Decoding Software
[
edit
]
Professional Equipment/Software
Video Examples
[
edit
]
Additional Links
[
edit
]
Additional Images
[
edit
]