PACTOR III
From Signal Identification Wiki
PACTOR Series: PACTOR I - PACTOR II - PACTOR III - PACTOR IV 

PACTOR III
Frequencies
3 MHz,30 MHz
Frequency Range
3 MHz - 30 MHz
Mode
USB
Modulation
PSK
ACF
—
Bandwidth
400 Hz,2.4 kHz
Location
Worldwide
Short Description
PACTOR III introduces 6 speed levels that provide higher throughput and improved robustness compared to PACTOR I and II. PACTOR III is on average 3.5 times faster than PACTOR II. With optimal conditions, PACTOR III becomes over 5 times faster.
I/Q Raw Recording
—
Audio Sample
PACTOR III introduces 6 speed levels that provide higher throughput and improved robustness compared to PACTOR I and II. PACTOR III is on average 3.5 times faster than PACTOR II. With optimal conditions, PACTOR III becomes over 5 times faster.
PACTOR III has a maximum bandwidth of 2400 HzHertz (Hz), unit of frequency, defined as one cycle per second (1 Hz).. This is a proprietary standard developed by SCS GmbH & Co. KG, Hanau, Germany.

Pactor III has 6 speed modes, made up of 2, 6, 14, 16, and 18 tone modulations, with each tone spaced 120Hz apart.

During a standard transmission connection between two operators, PACTOR III Modems will transmit a PACTOR I SELCALL to determine the optimal mode and speed to establish between the two operators.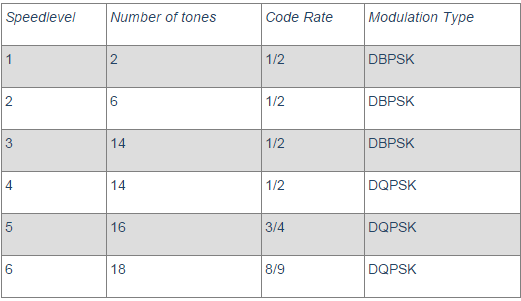 Noted Users
[
edit
]
PACTOR is used by many groups, including Sailmail for mariners to send and receive emails. It is also used by Ham Radio operators, Governmental and Diplomatic agencies, and even NGO's.
Winlink utilizes PACTOR I-IV for it's data transmission modes.
Parts of the former Globe Wireless HFHigh Frequency (3-30 MHz) network is now used by Swisscom, including its own Bern Radio in Switzerland. [1] [2] Swisscom solely uses PACTOR III with huffman compression for data transfer. [3]
Audio Sample
[
edit
]
Sample 1:

Sample 2:
PACTOR III Modes

| Level 1 (2-Tone) | Level 2 (6-Tone) | Level 3/4 (14-Tone) |
| --- | --- | --- |
| | | |
| Level 5 (16-Tone) | Level 6 (18-Tone) |
| --- | --- |
| | |
Frequencies
[
edit
]
Decoding Software
[
edit
]
Hobby Level Software
Professional Equipment/Software
Additional Links
[
edit
]
Additional Images
[
edit
]