Redundant Digital File Transfer (RDFT)
From Signal Identification Wiki
Redundant Digital File Transfer (RDFT)
Frequencies
9240

kHz

KiloHertz (kHz) 10^3 Hz

9,240,000 

Hz

Hertz (Hz), unit of frequency, defined as one cycle per second (1 Hz).


9.24 

MHz

MegaHertz (MHz) 10^6 Hz

,9065

kHz

KiloHertz (kHz) 10^3 Hz

9,065,000 

Hz

Hertz (Hz), unit of frequency, defined as one cycle per second (1 Hz).


9.065 

MHz

MegaHertz (MHz) 10^6 Hz

9,065 

kHz

KiloHertz (kHz) 10^3 Hz


9.065 

MHz

MegaHertz (MHz) 10^6 Hz

9,240 

kHz

KiloHertz (kHz) 10^3 Hz


9.24 

MHz

MegaHertz (MHz) 10^6 Hz

Frequency Range
9.065 

MHz

MegaHertz (MHz) 10^6 Hz

9,065,000 

Hz

Hertz (Hz), unit of frequency, defined as one cycle per second (1 Hz).


9,065 

kHz

KiloHertz (kHz) 10^3 Hz

- 9.24 

MHz

MegaHertz (MHz) 10^6 Hz

9,240,000 

Hz

Hertz (Hz), unit of frequency, defined as one cycle per second (1 Hz).


9,240 

kHz

KiloHertz (kHz) 10^3 Hz

Mode

USB

Upper Side Band Modulation (Radio, referring to reception and modulation mode)

Universal Serial Bus (Computer, referring to USB Ports and cables)

Modulation

PSK

Phase-Shift Keying

ACF

AutoCorrelation Function

—
Bandwidth
1800

Hz

Hertz (Hz), unit of frequency, defined as one cycle per second (1 Hz).

1.8 

kHz

KiloHertz (kHz) 10^3 Hz


0.0018 

MHz

MegaHertz (MHz) 10^6 Hz

1.8 

kHz

KiloHertz (kHz) 10^3 Hz


0.0018 

MHz

MegaHertz (MHz) 10^6 Hz

1.8 

kHz

KiloHertz (kHz) 10^3 Hz


0.0018 

MHz

MegaHertz (MHz) 10^6 Hz

Location
Worldwide
Short Description
RDFT is an amateur radio digital mode used to transmit files.
I/Q Raw Recording
—
Audio Sample
RDFT
is an amateur radio digital mode used to transmit files. Uses
DPSK
Differential Phase-Shift Keying
The only station known to utilize RDFT is the infamous Cuban Numbers Stations (Enigma designation HM01). HM01 transmits both a synthesized voice signal as well as the RDFT file transfer mode. Files are sent in .TXT format but are encrypted. This station is known to use the broadcast facilities - via a feeder or other unknown means - of Radio Habana.
The only application known to copy the files (but not necessarily decrypt them) is DIGTRX.
Decoding Software
[
edit
]
Hobby Level Software
DIGTRX was developed by Roland Zurmely PY4ZBZ, a Brazillian Ham Radio operator. This software was originally intended for use in amateur radio for Digital SSTV, but is also able to send images and other computer files using the computer's sound card.
This software has been long abandoned for other modes and has been replaced by HamDRM and other similar digital SSTV software.
Audio Samples
[
edit
]
RDFT Samples
[
edit
]
| RDFT Intro | RDFT EOT |
| --- | --- |
| | |
Cuban Numbers Station
[
edit
]
HM01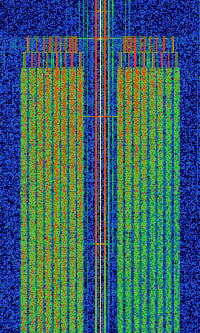 Video Examples
[
edit
]
Frequencies
[
edit
]
For up to date listings, subscribe to the UDXF Yahoo group and see the Numbers and Oddities website
Additional Links
[
edit
]
Additional Images
[
edit
]