OPERA Beacon and Data
From Signal Identification Wiki
OPERA Beacon / Data
Frequencies
136 kHz,10000 MHz
Frequency Range
136 kHz - 10000 MHz
Mode
USB
Modulation
ASK
ACF
—
Bandwidth
1.5 Hz
Location
Worldwide
Short Description
OPERA Ad-Hoc Data/Beacon. The system is unique in that utilizes a serial data stream and Manchester coding, its therefore impossible to lose lock and its extremely robust in disturbed paths and heavy static.
I/Q Raw Recording
—
Audio Sample
| | |
| --- | --- |
| | This article requires a rework. Please help to improve it. |
Multiple issues, See talk page.
OPERA ASKAmplitude-Shift Keying Beacon system, deployed from Audio > 136 kHzKiloHertz (kHz) 10^3 Hz > 477 kHzKiloHertz (kHz) 10^3 Hz > HFHigh Frequency (3-30 MHz) > VHFVery High Frequency (30-300 MHz) > UHFUltra High Frequency (300-3000 MHz) > uWave 3cm
The system is unique in that utilises a serial data stream and Manchester coding , its therefore impossible to lose lock and its extremely robust in disturbed paths and heavy static, experienced on 136/477 bands
Early versions carried 15 chars plain text 'Opera QSO mode' [v1-4-1]at -20 dBThe decibel (dB) is a logarithmic unit used to express the ratio of two values of a physical quantity, here the strength of a received signal. s/n
The currant version, contains the traditional 250 bit serial data transmission on all bands,the 136 and 477 Bands are provided with a 'second chance' correlation, single pass detector, providing -5/-6 db lower detection level. The 'Opera Dynamic' Call sign list is maintained, by either stand alone decodes [two the same]and/or web distributed decoded call's and from the software generated web TXTransmit beacon.
NB: As correlation detections, always have valid calls. Should the PC be web linked, The system uses detection and decode time spots, in 'real time' to validate Dynamic spots.The recovered average audio frequency is also supplied for reference, which may assist authenticating 'single detections'
Opera is an engineering beacon system, providing average s/n along the time line, average audio frequency of the signal and a  % fade, which is graphically represented, by a decode line, a lost data bit, being set to + 3 dBThe decibel (dB) is a logarithmic unit used to express the ratio of two values of a physical quantity, here the strength of a received signal. above the minimum decode level, i.e., fade margin.
Decode/Detection requirements, A minimum of 40% of the data, recovered, either in Blocks or Randomly along the timeline, i.e. ,there is no start, middle or end, just a 40%+ capture.
Samples
[
edit
]
Frequencies

USB

Upper Side Band Modulation (Radio, referring to reception and modulation mode)

Universal Serial Bus (Computer, referring to USB Ports and cables)

'dial'

[

edit

]
Note Carrier =

USB

Upper Side Band Modulation (Radio, referring to reception and modulation mode)

Universal Serial Bus (Computer, referring to USB Ports and cables)

+ 1500

Hz

Hertz (Hz), unit of frequency, defined as one cycle per second (1 Hz).

[System is symmetrical

USB

Upper Side Band Modulation (Radio, referring to reception and modulation mode)

Universal Serial Bus (Computer, referring to USB Ports and cables)

/

LSB

Lower Side Band Modulation

]

[

edit

]
7.5 kHzKiloHertz (kHz) 10^3 Hz, 28.0 kHzKiloHertz (kHz) 10^3 Hz, 73.0 kHzKiloHertz (kHz) 10^3 Hz, 136.0 kHzKiloHertz (kHz) 10^3 Hz, 477.0 kHzKiloHertz (kHz) 10^3 Hz, 1.836 MHzMegaHertz (MHz) 10^6 Hz, 3.547 MHzMegaHertz (MHz) 10^6 Hz, 5.289 MHzMegaHertz (MHz) 10^6 Hz, 7.038 MHzMegaHertz (MHz) 10^6 Hz, 10.135 MHzMegaHertz (MHz) 10^6 Hz, 14.062 MHzMegaHertz (MHz) 10^6 Hz, 18.105 MHzMegaHertz (MHz) 10^6 Hz, 21.074 MHzMegaHertz (MHz) 10^6 Hz, 24.925 MHzMegaHertz (MHz) 10^6 Hz, 28.070 MHzMegaHertz (MHz) 10^6 Hz, 50.070 MHzMegaHertz (MHz) 10^6 Hz, 70.093 MHzMegaHertz (MHz) 10^6 Hz, 144.180 MHzMegaHertz (MHz) 10^6 Hz, 432.090 MHzMegaHertz (MHz) 10^6 Hz, 1296.6 MHzMegaHertz (MHz) 10^6 Hz
Decoding Software
[
edit
]
Decoding Tutorials
[
edit
]
WEB Links
[
edit
]
Video Examples
[
edit
]
Output from Opera call sign code gen and bit rate
[
edit
]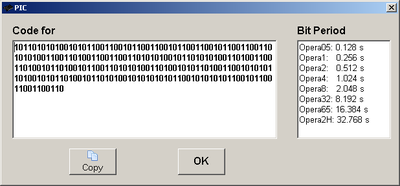 OPERA GUI
[
edit
]