MODAT
From Signal Identification Wiki
MODAT
Frequencies
30

MHz

MegaHertz (MHz) 10^6 Hz

30,000,000 

Hz

Hertz (Hz), unit of frequency, defined as one cycle per second (1 Hz).


30,000 

kHz

KiloHertz (kHz) 10^3 Hz

,800

MHz

MegaHertz (MHz) 10^6 Hz

800,000,000 

Hz

Hertz (Hz), unit of frequency, defined as one cycle per second (1 Hz).


800,000 

kHz

KiloHertz (kHz) 10^3 Hz

30,000 

kHz

KiloHertz (kHz) 10^3 Hz


30 

MHz

MegaHertz (MHz) 10^6 Hz

800,000 

kHz

KiloHertz (kHz) 10^3 Hz


800 

MHz

MegaHertz (MHz) 10^6 Hz

Frequency Range
30 

MHz

MegaHertz (MHz) 10^6 Hz

30,000,000 

Hz

Hertz (Hz), unit of frequency, defined as one cycle per second (1 Hz).


30,000 

kHz

KiloHertz (kHz) 10^3 Hz

- 800 

MHz

MegaHertz (MHz) 10^6 Hz

800,000,000 

Hz

Hertz (Hz), unit of frequency, defined as one cycle per second (1 Hz).


800,000 

kHz

KiloHertz (kHz) 10^3 Hz

Mode

NFM

Narrowband Frequency Modulation

Modulation

MFSK

Multiple Frequency Shift-Keying

ACF

AutoCorrelation Function

—
Bandwidth
5

kHz

KiloHertz (kHz) 10^3 Hz

5,000 

Hz

Hertz (Hz), unit of frequency, defined as one cycle per second (1 Hz).


0.005 

MHz

MegaHertz (MHz) 10^6 Hz

5 

kHz

KiloHertz (kHz) 10^3 Hz


0.005 

MHz

MegaHertz (MHz) 10^6 Hz

5 

kHz

KiloHertz (kHz) 10^3 Hz


0.005 

MHz

MegaHertz (MHz) 10^6 Hz

Location
Worldwide
Short Description
MODAT is a 7-tone Automatic Number Identification (ANI) status system used by handheld radios. It provides unit ID and emergency statuses to receiving radio sets when transmitted.
I/Q Raw Recording
—
Audio Sample
MODAT
is a 7-tone Automatic Number Identification (ANI) status system used by handheld radios. It provides unit ID and emergency statuses to receiving radio sets when transmitted. Transmitting the ANI-ID allows receivers and dispatchers to know who they are talking to, identify system abusers, identify emergency conditions and assign calls fairly. MODAT is a proprietary mode developed by Motorola. MODAT was available on the MT500, MX300 Series, Syntor, and MICOR mobiles, as well as the ASTRO series.
MODAT has 11 tones to choose from and transmits up to 7 tones in a burst right before radio transmission. MODAT supports 4-digit ID's and have a range from 0000-8999. Each tone has a length of 40ms. The bursts transmit right before a radio transmission.
MODAT was used by a variety of agencies including New York City EMS, the Baltimore Fire Department, and the Los Angeles Police Department for unit ID before they upgraded to other protocols. NYCEMS Micor mobiles utilized Series 90 boards that had status buttons with interlocked latching switches and message buttons with momentary switches, as well as an Emergency board. An auxiliary enclosure housed the actual MODAT processor board which interfaced to the Micor. Pressing a button sent an in-band MODAT "signal" over the voice channel selected. This also illuminated an Ack lamp. The signal was received and processed by the computer aided dispatch system, which generated an identical reply. Often, a tone remote keying sequence was heard between the unit generated MODAT signal and the CAD generated MODAT signal. The received reply turned off the lamp and stopped retry transmissions, as well as updated the CAD system with the appropriate unit ID, status, or message without dispatcher intervention.

Samples
[
edit
]
MODAT example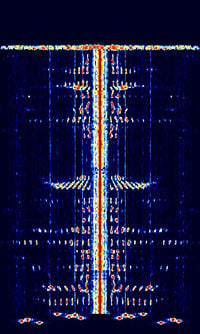 Decoding Software
[
edit
]
Hobby Level Software
Video Examples
[
edit
]
Additional Links
[
edit
]
Additional Images
[
edit
]